How I'm feeling about parenting a 2.5 year old and a 4 week old.
Tired – A baby who wakes up 2 times a night to nurse makes for one tired Mama.  "Sleep when the baby sleeps" does not apply with an older sibling in the house.  I know…only twice is pretty darn good for a newborn, but I'm still tired.
Busy – Holy cow the amount of laundry a little one requires is amazing!  Cloth diapering doesn't help either.
A bit Insecure – Is the baby nursing, sleeping, pooping, enough?  Is my 2 year old adjusting ok to his older brother?
Spoiled – I have such fantastic family and friends that I haven't had to cook dinner in 4 weeks!  Score!!
Blessed – I swear I have the 2 best sons and the most wonderful husband ever.
How are you feeling this week?
Now onto The Sunday Parenting Party!
1. 10 Random Things my 2 Year Old is All of a Sudden Scared of…: Seeking Shade – This is one of my new favorite blogs, and this post is hilarious!
2. Ummm…How Did I Not Know About This Blog?: Prickly Mom – How one Mom is taking the challenge to stop the yelling!
3. Why We Love Mud: Making Boys Men – Because we love mud too!  She shares several reasons why playing with mud is so fantastic.  You should see the pics in this post!
Great Job!  Grab a Button!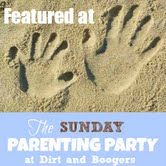 1. Any parenting post is welcome. Humorous, helpful, inspiring, or a tear-jerker, they are all welcome. Please do not add activity posts.
2. Please grab a button (on my sidebar) and add it to your post so that others know about the party too.
3. We have a great Pinterest board that we share many of posts linked up. I also have a Parenting Help board that has tons of posts (and followers) that your post my pop up on.
4. By linking up you agree that the co-hosts of the party may use one picture from your post as a feature.
5. Try to take the time to check out the other posts linked up!