Each week, I read each and every post that links up to The Sunday Parenting Party.  I have really enjoyed not only reading the posts, but finding new blogs to follow.  This week, was no different.  I have found several great posts and some new amazing blogs!
Here are my Top 3 from last week:

1. 10 Mistakes and Lessons Learned as a First Time Mom from Seeking Shade:  I love this post because she's so right about the stuff you need and the lessons  you learn when you have your first babe. 
2. How to Be a More Patient Parent from Picklebums: Um…because we all need more patience!  No really, I love the tips she gives in this post.  So simple and they work!
3. Be the Best Mom: Turn Off Technology and Play from B.Inspired Mama:  This Mom shows how she has conquered the battle with technology at her house.
Great Job Ladies!  Grab a Button!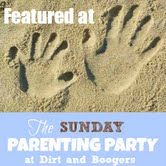 1. Any parenting post is welcome. Humorous, helpful, inspiring, or a tear-jerker, they are all welcome. Please do not add activity posts.
2. Please grab a button (on my sidebar) and add it to your post so that others know about the party too.
3. We have a great Pinterest board that we share many of posts linked up. I also have a Parenting Help board that has tons of posts (and followers) that your post my pop up on.
4. By linking up you agree that the co-hosts of the party may use one picture from your post as a feature.
5. Try to take the time to check out the other posts linked up!