My kids love each other and get along most of the time.  J is a loving older brother and handles most of Baby E's baby behaviors with such grace that I am genuinely impressed with him.
However, I hear "Mom, can you move E for me?" at least 20 times a day.
You see, Baby E loves to wreck J's play scenes.  He's 8 months old and pretty much destroys whatever J is playing with.
At 3 years old, J is starting to get really engrossed in big pretend play scenes and really dislikes it when they get destroyed.  Hey, I wouldn't like it if someone wrecked my work either!
So, I've been trying to distract E and often find myself moving him to different parts of the house to play.  It doesn't last long though because he's crawling, and he gets right back to the playroom in seconds.  Honestly, I don't like to move him either.  I  want him to play and explore freely and I don't like being mediator between the boys.  But, what else can I do?
So, I asked for help from some of the best resources I know, the Kid Blogger Network, and my best mommy friend with two kids.
With all that help, I've made a few changes around here.
I'll first share what I've done and then I'll leave some more tips below with a few blog posts to help.
First of all,  I implemented room time for both kids.  We live in a two story home with our bedrooms upstairs and playroom downstairs.  J does not go upstairs to play in his room throughout the day, so I have set a certain time of day where I ask him to play in his room.  He really does love it.  I only ask that he plays for 30min, but usually he likes to stay for up to an hour.   *This is how I get a shower most days too!*
Baby E gets 15 min of play time in his crib twice a day.  I have a video monitor, so I can keep an eye on him.
Both boys get uninterrupted time to play without disruptions and some quiet time to play as they wish.
I got this tip from Rebecca at Here Come the Girls. "I always tried to make the twins' interruptions into part of the game. I would shout "giant baby" and encourage my eldest not to be upset but to find it funny and get pleased we could start again."
And that's exactly what we do.  We yell "here comes the Baby!" when E starts taking apart J's stuff, and we make a fun game out of it.  Now, J thinks it's funny and he's more likely to fix his toys without getting upset and frustrated.
When he does mess up J's play, I just say "uh oh!  Let's fix it!".  The lighter I take it, the less J gets upset.
I have found ways for them to play together with the same toys.  The both really enjoy playing together which is great for their relationship.  Sometimes I join in,
and sometimes I don't.   I'll be blogging about these activities soon!
I have quit designating toys to each boy.  Now, they are all our toys.  J gets to play with the baby toys, and E gets to play with the older toys.  There are a few exceptions to this rule, like J's blue blanket is something he doesn't have to share.  I've noticed since this little change, J has become less possessive and will let E play with toys that he's not playing with at the time.  Before, he'd yell and get mad at E for touching "his" toys.
Also, J gets to play with E's toys without worrying about being told that those toys are not his, which can cause some anger towards his brother.  He actually really likes to play with some of his toys, and so it works out great.
Since making these changes, things have gotten better.  It's not perfect and J still asks me to move E a few times a day, but there has been a noticeable change.
Here are a few more great ideas from the Kid Blogger Network that might work for your family:
Here are some good posts about play with different aged kids that might be helpful.
3 Reasons We Use Our Baby Pool for Indoor Play from For This Season – A seriously brilliant idea!
Playtime Activities for Babies and Older Siblings from Creative with Kids
Crafts and Activities with Multi Age Group of Kids from Creative with Kids


*****************************************
Welcome to The Sunday Parenting Party!
Here are my favorite 3 posts from last week: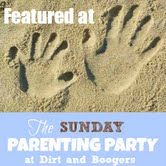 Welcome to The Sunday Parenting Party, hosted by Dirt and Boogers, Play Activities, Crayon Freckles, Taming the Goblin, The Golden Gleam, The Tao of Poop and Prickly Mom. The SPP is place for readers to find ideas on nurturing, educating, and caring for children, as well as honest posts about the stresses of being a parent or caregiver. Links to reviews and giveaways are welcome as long as they are relevant to the topic. All parenting philosophies are welcome with one exception: please do not link to posts promoting physical discipline, as this is something we would feel uncomfortable having on our blogs. (P.S. By linking up you agree that your post and photos are Pinterest, Sulia, G+ and FB friendly. We will be showcasing ideas on The Sunday Parenting Party Pinterest board.)