When it comes to parenting, there is one rule that I keep in the back of my mind.  I go to it every single time I approach my kids.
It's my Golden Rule.
It is THE Golden Rule….Treat my kids the same way I would like to be treated.
It's that simple.
I try very hard to put myself in their shoes and be respectful of their feelings, time, and work.
Here's what I mean.
I don't make them stop playing without prior notice.  I let my three year old finish or prepare him for stopping at least 20 minutes in advance.  I do this because play is his work.  When I'm working, I get angry and frustrated when I'm interrupted.  Kids get angry and frustrated when they get interrupted too.
I don't tell them how to play.  Again, play is their work.  They get to decide how they want to do it.  I don't like someone breathing down my back or telling me how to do things, when I'm working, so I don't do it to him.  I follow along in their play, and let them decide if I can join and what my role will be.
I'm respectful in the way I talk to them.  I try very hard not to yell…but sometimes I do. When I do I always apologize.
I don't get into power struggles and  force them to do things.  I provide choices and they get to decide.  My 3 year old doesn't have to put on a jacket if he doesn't want to.  I provide the jacket, he decides if he wants to wear it.  How am I to know if he's cold or not?  I don't want anyone demanding that I do something, I prefer choices too. (This does not mean we don't have rules, we most certainly do!)
I use kind words and talk nicely about them to others.
I keep my promises.  I don't lie.  I don't hit.
I listen to them.
Am I perfect, and do this all the time?  No.  I make mistakes and royally screw up sometimes, but I try.
Simply, I treat them they way I would like to be treated.
The best part of following this rule?  Children will listen more, yell less, and be more respectful too.
Because really, the only way to get respect, is to give it first.
See my other Parenthood Mantra Here!
*******************
Welcome to The Sunday Parenting Party!
Here are my three favorite posts from last week.
Parenting a Strong Willed Child: Routine Changes – The Educator's Spin on It
5 Easy Ways to Encourage Positive Behaviors from Children – Teaching Little Learners
It's All About the Process – Stir the Wonder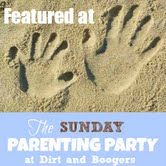 Welcome to The Sunday Parenting Party, hosted by Dirt and Boogers, Play Activities, Crayon Freckles, Taming the Goblin, The Golden Gleam, Prickly Mom, and The Tao of Poop. The SPP is place for readers to find ideas on nurturing, educating, and caring for children, as well as honest posts about the stresses of being a parent or caregiver. Links to reviews and giveaways are welcome as long as they are relevant to the topic. All parenting philosophies are welcome with one exception: please do not link to posts promoting physical discipline, as this is something we would feel uncomfortable having on our blogs. (P.S. By linking up you agree that your post and photos are Pinterest, Sulia, G+ and FB friendly. We will be showcasing ideas on The Sunday Parenting Party Pinterest board.)
The following two tabs change content below.
Amanda
I was a Mental Health Counselor who worked with children and mothers in both individual and group counseling environments before I became a Stay at Home Mom to two boys. I have a Bachelors Degree in Child Development and Family Studies and a Masters in Counseling where I specialized in Play Therapy.