"The Only Thing That Is Constant Is Change ."― Heraclitus
Spring has finally made an appearance over the past few days.  I love snow, but the warmth of spring is always such a welcome change to the cold.  Every year spring seems to bring big changes in my world.   April is usually crazy and life seems to get out of control for some reason.  This year, the changes are already starting.
For example…
A small change to my appearance has happened   Really, it's probably not that big of a deal for most, but it was to me.  You see, pregnancy changed my eyesight.  Weird. Anyone else have this phenomenon happen to them?  Anyway, I got my very first pair of glasses this week!  I wanted glasses so much when I was younger that I almost bought a pair of non-prescription ones in college to look more studious.  Truth.  Now I'm just thrilled that I can see again!
We've also decided on one big change, and it's a tough one…
You see that sweet gray kitty up there?  That's my cat, Desi.  I love her so much.  I found this sweet kitty with my roommate my senior year of college. Someone was giving away free kittens in front of Walmart one night and I fell in love with this sweet girl.  Well, 12 years, 6 moves, 4 states, 2 kids, and 1 husband later, the time has come for Desi to be put to sleep.  She is sick and the vet isn't quite sure what's wrong.  My husband and I have been debating if, and now when we should do it. I am sad, very sad, but it's time.  Sometimes change is hard.
We also know a few more changes are heading our way.
We're moving yet again this June, but we're not sure yet where we're heading.  We should be getting orders here in the next few weeks and we can finally start planning our next big chapter.  This will be move number 4 in 6 years!  I really like to move and settle in new places.  It's like a renewal of sorts, a fresh start.
It's time to celebrate the thaw of winter and to welcome the beauty of spring.  I'm hoping that the rest of my spring isn't quite so sad and that the changes that come my way bring more joy than tears.
Come on over to
Instagram
to see more of what we're up to
*********
Now it's time for The Sunday Parenting Party!
Here are my favorite three posts from last week that I think you'll like too!
Great Job Ladies!  Grab a Button!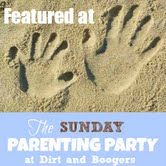 1. Any parenting post is welcome. Humorous, helpful, inspiring, or a tear-jerker, they are all welcome. Please do not add activity posts.
2. Please grab a button (on my sidebar) and add it to your post so that others know about the party too.
3. We have a great Pinterest board that we share many of posts linked up. I also have a Parenting Help board that has tons of posts (and followers) that your post my pop up on.
4. By linking up you agree that the co-hosts of the party may use one picture from your post as a feature.
5. Try to take the time to check out the other posts linked up!