I don't know about you, but I love reading the posts that are linked up for The Sunday Parenting Party.  There are so many that are SO GOOD!  How is a gal supposed to just pick a few to feature?  Last week there were posts about karma, grandparents, being a stay at home mom, playdates, coping techniques, and many many more!  I had to pin most of them for my personal use!
Well after much consideration, I found 3 this week that really spoke to me.  I hope you enjoy them as much as I did.  If you've been featured, make sure you grab a button for your blog!
1. Never Say Never: The Tale Of A Fingernail Fairy: Like Mama~Like Daughter – I love the sweetness of this post.  Seriously, look at those sweet toes!  No really, it's about a sweet surprise this Mama  did for her daughter while she slept.
2. How To Create Effective, Loving Rules: Awesomely Awake – I pinned this immediately when I read it.  It's a great post about how to make simple, realistic rules for a family.  So need to remember this one!
3. Back to School Blues: Here Come the Girls – This is a story about a little girl who was having a hard time adjusting to going to school, and how one genius Mom helped her handle the change.  She came up with some seriously great tactics to help her daughter adjust.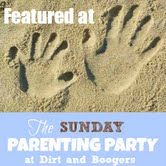 Now onto the Party! Here are a few things to consider before linking up:
1. Any parenting post is welcome. Humorous, helpful, inspiring, or a tear-jerker, they are all welcome. We do ask that no posts about physical discipline be linked though.
2. Please grab a button (on my sidebar) and add it to your post so that others know about the party too.
3. We have a great Pinterest board that we share many of posts linked up. I also have a Parenting Help board that has tons of posts (and followers) that your post my pop up on.
4. By linking up you agree that the co-hosts of the party may use one picture from your post as a feature.
5. Try to take the time to check out the other posts linked up!