I hope you all enjoyed all the wonderful posts linked up last week.  I'll tell you, after 2 weeks off, it was nice to get back to reading all the fantastic posts.
Here are my 3 favorite from last week.
1. 40 Easy Meal and Snack Ideas for Moms: Moms Have Questions Too – Just like this mom, I'm really good at feeding J healthy meals, but for me, not so much.  Love these quick simple meal ideas that are great for any busy mom.
2. Hands On at the Playground: Raise a Boy – The always frustrating question of whether to step in and break up roughhousing or tiffs at the playground, or to let them figure it out themselves.  I like the way this mom sees it.
3. Confessions of a Mom Geek: Play Dr. Mom – "I'm a mom geek. And I'm proud." Yep me too.  Love this post about how one mom feels the pressure to get a party just right.  I can totally see myself in this mom…how about you?
Great job ladies!  Grab a button!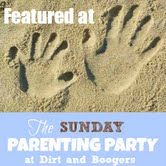 1. Any parenting post is welcome. Humorous, helpful, inspiring, or a tear-jerker, they are all welcome. Please do not add activity posts…those can go over here at The Kid's Co-Op
2. Please grab a button (on my sidebar) and add it to your post so that others know about the party too.
3. We have a great Pinterest board that we share many of posts linked up. I also have a Parenting Help board that has tons of posts (and followers) that your post my pop up on.
4. By linking up you agree that the co-hosts of the party may use one picture from your post as a feature.
5. Try to take the time to check out the other posts linked up!