I am an avid blog reader, as well as a blogger myself, duh.  Eventhough I 've been blogging for two years now, I still don't feel like a real blogger.  I guess it's because I don't look like those perfect bloggers do.  My life is crazy busy and sometimes my house is a mess.  My kids aren't always perfect and many of our activities don't turn out so great.  I sometimes struggle to get a blog post out, let alone do all the other behind the scenes blogging stuff.
Then something happened.
I started getting emails from readers wondering how I do it all.  They think I have it all together and am living this perfect motherhood where I have all this extra time to blog.  What!?  I'm not a career blogger, there  is no way that others think that about me!
The first email I read made me laugh out loud.  How in the world can this mom think I have it all together?  Man, if she only knew that I had zero time to myself today!  I didn't even get a shower, let alone a blog post done!  I share my parenting struggles all the time, and vent on my facebook page almost daily.  How can she think that I'm perfect?
Then it hit me.  I try to authentic with you, I really do, but my online presence doesn't show that very well.
Here's the truth.
First of all,  I do not do activities with my kids every day.  I don't have the creative power nor time to do one every day.  On really good days I'll set up a few activities for the kids, and other times I'll go a week without doing anything special at all.   It looks like we are always doing pretty, new, great activities every day because I schedule my posts.  I'll write a few short posts at a time and schedule them out over the next week or two.
I don't live on social media, even though it looks like I do.  I schedule my posts there too.  It looks like I'm on Facebook all day long, but I don't have time for that!  I do like to check in here and there and I do respond to what you have to say, but I can't sit at my computer all day long.  With Facebook's cool algorithm, most of my readers will not see a fraction of what I post.  So, I have to post frequently to try and catch you all.  I also schedule my tweets.  I don't schedule pins, but I'm looking into that.
My house is not as clean as the pictures on my blog show.  I have gotten pretty good at keeping the clutter out of the pictures, and I can blur out messes in the background.  Shoot, I can even edit my pictures and erase all the extra background stuff. 
Here's one pic of an upcoming activity with a heap of a mess behind it.  I was cooking dinner while my 3 year old was creating.  I also had a very unhappy baby on my hip, and I was praying that my husband would hurry is butt home!  But, the post will look great and you won't know that I was juggling so much and about to pull my hair out!
The truth is, bloggers want our blogs to grow.  We want to connect with others.  We want to inspire.  In order to do that, we have to show only the best of us.  No one wants to see pictures like the one up there.  People want pretty, clean pics, so that's what we show.
Another truth, we are just like you.
Most of the moms I'm around day to day have no idea that I'm a blogger.  It's like my secret identity.  So, you might see me out and about at library story time or at the grocery store, and you'd never know I was a blogger.  There are thousands of us out there, and we live our lives exactly like you do.
Blogging is my hobby.  At this point, it is not my career.  Sure, I make a little bit of money at my hobby, but it's not my job.  Taking care of my family is my job, blogging is just a really cool thing I get to do.
So, you ask me how I do it.
I'll throw it back at you.  How do you do it?
Follow me on Facebook where I vent about my day to day struggles, and share some pretty cool stuff too.
******************************
Welcome to The Sunday Parenting Party!
Here are my favorite posts from last week.
To All the Moms of Little Children: Five in Six
Motherhood & Making Changes: Crafting Connections
Struggling to Stay Present: Mommy, for Real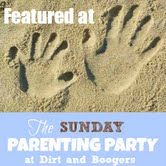 Welcome to The Sunday Parenting Party, hosted by Dirt and Boogers, Play Activities, Crayon Freckles, Taming the Goblin, The Golden Gleam, Prickly Mom, and The Tao of Poop. The SPP is place for readers to find ideas on nurturing, educating, and caring for children, as well as honest posts about the stresses of being a parent or caregiver. Links to reviews and giveaways are welcome as long as they are relevant to the topic. All parenting philosophies are welcome with one exception: please do not link to posts promoting physical discipline, as this is something we would feel uncomfortable having on our blogs. (P.S. By linking up you agree that your post and photos are Pinterest, Sulia, G+ and FB friendly. We will be showcasing ideas on The Sunday Parenting Party Pinterest board.)