I've had several emails from readers asking me how I handle parenting two kids and are genuinely interested in what my days look like.   So a few months ago I wrote down what happened around my house on a typical day.
On this particular day, it was raining and I decided to keep the boys home and have a pajama day.
J was 3 years old, E was 7 months old
************************************************************
3:30am – I'm in E's room feeding him for the 4th night in a row.  He's been sleeping through the night for months, so he must be going through some sort of growth spurt.  When he's done, I lay him down awake and head back to bed.  He's quiet, so I go to sleep.
7:15am – I wake up, notice it's rainy and immediately deem today a pajama day.  I then notice the time, and wonder what J is up to.  He is usually up and out of his bed at 6:45.  I head downstairs and he is sitting on the couch watching a TV show.  He tells me that Dad started his show before he left for work, and told him to leave me alone so I could sleep…go hubby!  I grab my first cup of coffee and sit with J.  We start his second show.
7:25am – E wakes up.  I get him out of bed, change his diaper and clothes, then head downstairs and nurse him on the couch next to J.
7:50am – TV goes off and I start on breakfast.  I remember that tomorrow is grocery day and we have very few fresh foods in the house at the moment.  I throw together french toast for the boys, J gets the last apple, and I share a very ripe peach with E.
8:15am – J's done eating, but I'm just now sitting down to eat..typical.  He is now begging me to read him books and keeps asking me to play with him.  I ask him to wait until E and I are done eating.  He heads to playroom and continues to ask me if I'm done eating until…
8:25am – I'm done eating. I wash off all the toast off of E and lay him on the carpet in the living room with some toys.  I wait to do the dishes, and I read books with J instead.
8:45am – I hit a balloon around with J.
9:00am – I grab E's laundry and put it in the wash, head to the kitchen to wash the breakfast dishes.  The boys are playing in the playroom and I pray that E doesn't get maimed.
9:09am – J says he's hungry…didn't he just eat?  He sits at the counter and eats a graham cracker.  I make another cup of coffee…take a few sips.
9:12 am – Take E upstairs, change his diaper, sing a song, and put him down for a nap.
9:16am – I'm back and J's done with his snack…I do dishes.  "Can you play with me now."  I suggest that we make bread and he agrees to help.
9:50am – The bread dough is made and sitting to rise.  I do more dishes and trip over J's fire truck on the way to the laundry room to switch E's clothes to the dryer.
9:57am – Throw my full cup of coffee out and switch to drinking water.  I've had some supply issues due to dehydration, so I only drink water after 10am.
10:06am – I hear E talking in the monitor and pray that he goes back to sleep.
10:10am – I'm in the playroom playing Legos with J.  We build a construction site together and then hit around a balloon for a while.
10:33am – I notice that E is quiet and sleeping again.
10:45am – I shape the bread and let it rise again…did more dishes.
11:00am – Notice it's lunch time.  E starts stirring.  I head to the bathroom and notice that J has unrolled most of the toilet paper on the floor.  I call him in to pick it up.
11:05am – J wants me to read more books.  I ask him to read by himself for a bit while I make lunch.   He decides that the best place to read would be in the middle of the kitchen floor when I'm trying to cook.  I hear E talking.
11:07am – I head upstairs to get E, change his diaper, and bring him downstairs.  I put him the the exersaucer while I continue to make lunch.  J asks if he can make his  own sandwich, and I let him.
11:10am – E starts crying, I get food at the table and nurse E while I eat.  I have a leftover meatloaf sandwich and chips. J has a peanut butter and jelly sandwich, the rest of this morning's apple, frozen peas, and chips.  I make a mental list of all the stuff we need at the grocery store, and pray I don't forget to write it all down on my list.
11:45am – I lay E down in the playroom with J and hope he doesn't get maimed.  I then clean lunch dishes and notice that the bread has a good rise, so I put it in the oven.
11:47am – J asks me if we can paint outside.  I remind him of the rain.  He suggests that we paint the kitchen chairs yellow.  Um…I tell him that I can either put paper on the table or the floor and he can paint there.  He chooses the table.
11:50am – I set up the paint on the table.  J hears the garbage truck outside so we run outside to see it.  I run back inside and grab E, I tell J to stay on the porch, and pray that he listens.  I'm gone less than a minute, and J is still on the porch when I return…whew.
11:57am – We're back inside and J is painting at the table.  I check on E in the playroom and remove all potential hazards off the floor.
12:00pm – I smell the bread and noticed that I forgot to set a timer…good thing I wrote it down on this list…I rock!  J is done painting and hears more garbage trucks…so we run back outside.
12:10pm – We come back inside and I smell the bread….totally forgot about it again.  I run and get it out of the oven.  It's a bit overdone, but not too bad.  I head back into the playroom to hang out with the boys.
12:23pm – J says he's hungry again…seriously?!  We share some warm bread and milk.
12:30pm – We head back into the playroom.  J is doing the pee pee dance and I ask him to go.  He cries and yells, but goes anyway.  I set a timer for 15 minutes.
12:45pm – The timer goes off, and I tell J to start cleaning.  I take E upstairs, change his diaper, sing a song, and lay him in his crib for naptime.
12:50pm – I go back downstairs and am pleased to see that J is actually cleaning the playroom.  It's hit or miss most days.
12:52pm – I take J upstairs to his room for nap.  We read two book and sing two songs.
1:04pm – I go downstairs and have a missed call from my brother.  I call him back and fold laundry while on the phone.
1:45pm – I open my computer to work on the blog and watch some TV.
2:45pm – E wakes up.  I go get him, change his diaper and I bring him downstairs.  My hubby calls to make sure I'm alive and to check in.  The UPS guy leaves a package and rings the doorbell…I pray it doesn't wake up J.
3:00pm – I feed E while finishing my TV show…Catfish, if you're wondering.
3:15pm – I sit on the floor with E and work on my grocery list.
3:45pm – I put away E's laundry, clean up the paint off the table, have a piece of cinnamon bread, and wait for J to wake up.
4:15pm – J's awake and comes downstairs.  He's a bit groggy but says he wants a snack.  I give him more bread and grapes.
4:20pm – E starts getting fussy, so I take him upstairs, change his diaper, sing a song and put him in his crib.  He's crying this time…I think I waited too long to put him down for a nap.
4:30pm – I head downstairs and J hasn't touched his bread…says he's waiting on me.  I notice that E is quiet and sleeping.
4:40pm – J asks me to "make science" (baking soda and vinegar) when I'm cleaning dishes and paint cups.
4:45pm – I set up "science" while J does puzzles.
4:50pm – J's playing and I have some time.  Not quite sure what to do, so I check my facebook and email.
4:57pm – J's done playing and says he wants to play with me.  We head to his playroom and we build his train tracks.
5:20pm – I try to start making dinner, but J asks to read more books.  I have another 10 minutes until I really need to start, so I read books.
5:30pm – I start making dinner, BLT Pasta.  J really wants to help, but I say no because there isn't much he can help with, and now I don't have time to waste.  E wakes up.
5:32pm – I head upstairs to get E, change his diaper and lay him downstairs in the playroom, and pray he doesn't get maimed.  I start wondering when my husband will be home.
5:35pm – Now I start making dinner.  J continues to come into the kitchen asking me to play, and even tells me to stop cooking so I can help his dump truck that's stuck in pretend mud.  Now, I'm really wondering where in the world my husband is.
5:50pm – E starts fussing.  I put him in the exersaucer.
6:00pm – Text from husband "OMG….OMW…"  Finally!  J continues to ask me to play and needing my help.  I wonder why he won't play with the trains we had just set up.  E starts fussing again.
6:12pm – Hubby walks through door, picks up E.  I start plating dinner.
6:15pm – We eat dinner together and talk about our day, remind J to use his manners, and watch E make a huge mess with his pasta.
6:35pm – Finished with dinner and hubby starts cleaning the kitchen.  I play balloons and read books with boys in the living room.
7:00pm – I nurse E while my hubby gives J a bath upstairs.
7:30pm – J is downstairs cleaning the playroom.  I take E upstairs, changed his diaper and clothes, sang a song, and laid him down for bed.
7:40pm – J has finished cleaning and gets rewarded with some time on the tablet.
7:50pm – Hubby takes J upstairs for bed.  I change out of my pajamas and into clean pajamas.
8:00pm – I pour myself a glass of wine and settle down on the couch with my husband and we watch a few episodes of The Sopranos.
10:00pm – I drag myself to bed.
*******************************************************
It was a nice day, but a busy one.  I've actually done a previous post like this two years ago (J was just shy of 2 years old), when I was a Mom of just one.  Read it here to see how things have changed!  Tell me, are your days like this or are they very different?
Come on over to Facebook, Twitter or Instagram to connect us and to hear more about our adventures.
***********************************************************
Welcome to The Sunday Parenting Party!
These are my three favorite posts from last week
Choosing to Connect: Emma – Rediscovered Families
Conscious Parenting is this where it all begins? – Sparkling Bay
Tips for a  Less Stressful Holiday Season – The Kennedy Adventures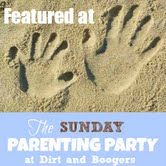 Welcome to The Sunday Parenting Party, hosted by Dirt and Boogers, Play Activities, Crayon Freckles, Taming the Goblin, The Golden Gleam, Prickly Mom, and The Tao of Poop. The SPP is place for readers to find ideas on nurturing, educating, and caring for children, as well as honest posts about the stresses of being a parent or caregiver. Links to reviews and giveaways are welcome as long as they are relevant to the topic. All parenting philosophies are welcome with one exception: please do not link to posts promoting physical discipline, as this is something we would feel uncomfortable having on our blogs. (P.S. By linking up you agree that your post and photos are Pinterest, Sulia, G+ and FB friendly. We will be showcasing ideas on The Sunday Parenting Party Pinterest board.)