Have I told you lately how much I enjoy Sundays on the blog now?  I find myself getting totally lost in all the amazing parenting posts.  This week I've laughed, cried, and thought about some really great parenting ideas.
 

1. Day of the Girl Blog Hop: Thoughts from a Mama of Boys: The Good Long Road – I absolutely believe that the issue of Women's Rights is not just an issue for women.  Men need to be aware and involved as well.   This post is all about how to raise boys to become caring, respectful men towards women.
2. The First Smile: Little Moments – I'm including this sweet post in my features today because it not only made me smile…it made me cry.  Go read it yourself to see why.
3.  Trust: Early Play – "Trust children.  Nothing could be more simple, or more difficult". How trust builds confidence in young children.
4. What Are You Going to Say???: Authentic Parenting – Teaching children to mean it when they say Thank You. 
Fantastic job guys!  Grab a button for your blog!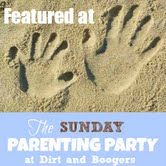 Now onto the Party! Here are a few things to consider before linking up:
1. Any parenting post is welcome. Humorous, helpful, inspiring, or a tear-jerker, they are all welcome. We do ask that no posts about physical discipline be linked though.
2. Please grab a button (on my sidebar) and add it to your post so that others know about the party too.
3. We have a great Pinterest board that we share many of posts linked up. I also have a Parenting Help board that has tons of posts (and followers) that your post my pop up on.
4. By linking up you agree that the co-hosts of the party may use one picture from your post as a feature.
5. Try to take the time to check out the other posts linked up!