I'm so glad to be back doing The Sunday Parenting Party after a break.  I hope that you all enjoyed the Holidays and are getting back into the swing of normal life after all the celebrations.
I must admit that I'm having a hard time blogging right now and I've been pretty much absent on Facebook.  I am almost 38 weeks pregnant and I just want to sit on the couch and eat chocolate during J's naptime.  Healthy huh?  But really, that used to be my blogging time and I just can't bring myself to do it at the moment. When I'm not on the couch gorging myself I'm organizing, cleaning, or making freezer meals.  I think I've been nesting.

That's a big belly!
I do still think about the blog and what I want to write about.  I have lots of posts in my head, including another Preparing Toddlers for a New Baby post, and a fantastic artwork round up that I'm super excited about.  So stay tuned, I'll get them out soon…I promise!
Until then…let's start up the Parenting Party again, shall we?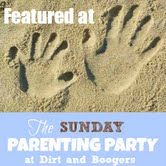 1. Any parenting post is welcome. Humorous, helpful, inspiring, or a tear-jerker, they are all welcome. Please do not add activity posts…those can go over here at The Kid's Co-Op
2. Please grab a button (on my sidebar) and add it to your post so that others know about the party too.
3. We have a great Pinterest board that we share many of posts linked up. I also have a Parenting Help board that has tons of posts (and followers) that your post my pop up on.
4. By linking up you agree that the co-hosts of the party may use one picture from your post as a feature.
5. Try to take the time to check out the other posts linked up!