I am just thrilled with the outcome we've had so for The Sunday Parenting Party!  Thank you all so much for supporting us, and this party, by linking and sharing!
This week the posts about toddlers really jumped out at me.  Maybe it's because I live with one.  Anyway, all 4 of these are awesome posts that I hope you'll enjoy.

1. Top 5 Things To do with Toddlers You Won't Regret – Domesblissity. I love this post so much!    A wonderful reminder to treasure the toddler years, they go by so fast!
2. How My Twins Potty Trained Themselves – Caution! Twins at Play.  We've been thinking about when and how to potty train J.  This post really helped me sit back and relax about potty training.
3. Racing Stripes – Twodaloo.  Speaking of the potty, this is a humor post about poop.  Because what parent of a toddler doesn't have to deal with a bit of poop?  It's really funny, but not for those with a weak stomach!
4. The Power of 100 – Prickly Mom.  Didn't I feature her last week?  Either way, I love this post about how one Mom handled a tough situation with a little counting.  It may not be totally geared toward toddlers, but would totally work for them too!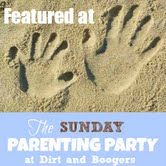 Great job ladies!  Grab a button.
Now onto the Party!  Here are a few things to consider before linking up:
1. Any parenting post is welcome.  Humorous, helpful, inspiring, or a tear-jerker, they are all welcome. We do ask that no posts about physical discipline be linked though.
2. Please grab a button (on my sidebar) and add it to your post so that others know about the party too.
3.  We have a great
Pinterest board
that we share many of posts linked up.  I also have a
Parenting Help
board that has tons of posts (and followers) that your post my pop up on.4.  By linking up you agree that the co-hosts of the party may use one picture from your post as a feature.
5. Try to take the time to check out the other posts linked up!