Welcome, welcome  to The Sunday Parenting Party!
My favorite kinds of parenting posts are the ones that show a bit of imperfection.  My reason behind this is because as bloggers we have a tendency to sugar coat our lives and edit out the hard parts.  And hey, why wouldn't we?!  Who likes to promote their less than perfect self?
The bad part of this is that others who read our blog assume that our house is always clean, our children are always well behaved, and that we ease through life.  Sometimes that can make others feel like their lives are complete chaos.  Let me tell you, bloggers live in chaos too!
I found three posts that show a bit of imperfection in the bloggers life.  I don't like relishing in other's mistakes or hard times, but it's refreshing to see that others struggle just I do!

1. Sherlock Mom and the "Bird Poop Eating" Mystery – True Aim: What is my deal with featuring posts about poop?  Anyway, this one is about how one Mom found out that she was wrong after the punishment was doled out.
2. Is an Imperfect Mom the New Normal? – Life Happens Then Write: It's ok to say "Not now, maybe later, mommy's tired… here, have some juice."
3. Mommy Reflections: Yes, We Were THAT Family! – Mamas Like Me: When the night doesn't quite go like you expected.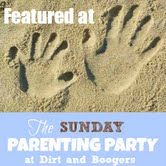 Great Job Ladies!  Grab a button!
Now onto the Party! Here are a few things to consider before linking up:
1. Any parenting post is welcome. Humorous, helpful, inspiring, or a tear-jerker, they are all welcome. We do ask that no posts about physical discipline be linked though.
2. Please grab a button (on my sidebar) and add it to your post so that others know about the party too.
3. We have a great Pinterest board that we share many of posts linked up. I also have a Parenting Help board that has tons of posts (and followers) that your post my pop up on.
4. By linking up you agree that the co-hosts of the party may use one picture from your post as a feature.
5. Try to take the time to check out the other posts linked up!