It was a beautiful day outside.  It was one of those days where a sweet breeze cooled down the bright sunshine.  In a word, the perfect day.
We decided that it would be a great day to take walk to the neighborhood park.  Our three year old, J, rode his bike and I pushed E in the stroller, my husband by my side.  We let J go ahead of us with the rule that he stop and wait for us at the corners.
He flew down the sidewalk while my husband and I trailed behind, beaming with pride watching our son handle his balance bike like a champ.  He got further and further away from us and closer to the corner.  We yelled to him to slow down and wait at the corner.
But did he wait?  No.
He turned that corner and disappeared behind a fence.  My husband took off running.  My jaw dropped.  As I reached the corner, I saw my son standing at the next corner, my husband walking towards him.  We yelled to him to wait!
Then he took off again.
He had waited for all the cars to go, and then proceeded to cross the busiest street in our neighborhood, alone.  My husband ran full speed towards him.  I heard my son giggling, basking in the joy of his freedom.
As I watch my husband walking towards me, bike in hand, with my son trailing behind, I immediately started to think about what punishment we would give for this crime.  I wanted to punish him.  I wanted there to be a big consequence for such a huge act of disobedience.  Thoughts of a time-out or being sent up to his room ran across my mind.   I was stunned, and could not believe that he had done something so dangerous.
Then, I hear my husband talking to my son. "I'm sorry J, we have to go home."  "You chose to not wait, even though we asked you to".  He was calm.  He used sentences like "I'm sorry you're disappointed, but you can't ride your bike anymore today."  "I see that you're feelings are hurt, we'll try again later."
As they reached me, my husband took the stroller and I bent down to talk to J.  The first words out of his mouth were "I'm sorry I didn't stop at the corners, Mommy.  I can try again later."
In that very moment, I know that he didn't need a time out or big consequence to learn his lesson.  The lesson was already learned.  He knew what he did was wrong, he knew he disappointed us and that's all he needed to know.
As we walked home, holding hands, we talked further about how dangerous it is to cross the street without an adult and that it's important to listen to Mommy and Daddy.
Over the next week, J continued to tell us that he was sorry that he didn't stop at the corner when he was riding his bike.  He did not ask to ride again, but said that he did want to try again later.
So, the next weekend, J agreed that it was time to try again, so we took another family walk, with J on his bike.  He reminded us that he needed to stop at the corners, and off we went on our walk.
Wouldn't you know it, the kid stopped at every corner and waited for us.
************************************
Welcome to The Sunday Parenting Party!
I didn't participate last week, due to some behind the scenes blogging issues, so, here are my top three from the past two weeks.
Are You a "Maxed Out" Mom? – School of Smock
Making the Decision to Possibly Hurt Your Child in Order to Help Him – My Skewed View
4 Words That Changed After Bringing Baby Home  – Happily. Ever. Mom
Good Job Ladies…Grab a Button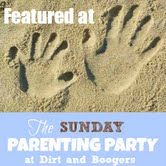 Welcome to The Sunday Parenting Party, hosted by Dirt and Boogers, Play Activities, Crayon Freckles, Taming the Goblin, The Golden Gleam, Prickly Mom, and The Tao of Poop. The SPP is place for readers to find ideas on nurturing, educating, and caring for children, as well as honest posts about the stresses of being a parent or caregiver. Links to reviews and giveaways are welcome as long as they are relevant to the topic. All parenting philosophies are welcome with one exception: please do not link to posts promoting physical discipline, as this is something we would feel uncomfortable having on our blogs. (P.S. By linking up you agree that your post and photos are Pinterest, Sulia, G+ and FB friendly. We will be showcasing ideas on The Sunday Parenting Party Pinterest board.)
Powered by Linky Tools
Click here to enter your link and view this Linky Tools list…