I love our Advent Calendar.  It's so cute and looks fantastic on our mantel.  But, most of those cute little boxes are empty.
That's right, I am a slacker.
I've been totally overwhelmed by life and have hardly worked on our calendar.  I have added a few things that I know we'll be doing this month, like planned Christmas parties, but that's about it.
However, every morning J wakes up and finds a special activity in his box.  Because every night I come up with something to do the next day or two.
It actually works great because there's less pressure to get stuff together for an activity that I planned weeks ago.  Every night I have some sort of idea of what I can handle doing the next day.  So, I plan accordingly.
I know that today I can make it to the post office to mail J's Christmas cards, but there is no way I can make ornaments with him because I have no idea what to make and I don't have all the supplies.
I started the month off feeling like a total slacker parent, especially after seeing so many great advent calendars on other blogs and Facebook. But after a week, I'm loving my unplanned month.  It's far less stressful!
Since doing it this way, I can't help but wonder how many other empty advent calendars there are out there.  I can't be the only one…right?
***************************
Welcome to The Sunday Parenting Party!
Here are my favorite posts from last week!
Teaching Young Children About Giving – Fun at Home with Kids
Simple Holiday Traditions You Kids will Love – P is for Preschool
Rascally Reindeer: Our Alternative to Elf on the Shelf – Happy Hooligans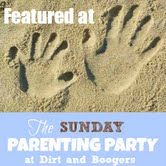 Welcome to The Sunday Parenting Party, hosted by Dirt and Boogers, Play Activities, Crayon Freckles, Taming the Goblin, The Golden Gleam, Prickly Mom, and The Tao of Poop. The SPP is place for readers to find ideas on nurturing, educating, and caring for children, as well as honest posts about the stresses of being a parent or caregiver. Links to reviews and giveaways are welcome as long as they are relevant to the topic. All parenting philosophies are welcome with one exception: please do not link to posts promoting physical discipline, as this is something we would feel uncomfortable having on our blogs. (P.S. By linking up you agree that your post and photos are Pinterest, Sulia, G+ and FB friendly. We will be showcasing ideas on The Sunday Parenting Party Pinterest board.)