Today I'm sharing three posts from The Sunday Parenting Party that really spoke to me.  Did you find a post from last week that you loved?

1. What They Don't Tell You About Breastfeeding from Taming the Goblin:  I'm now nursing my second child and, let me tell you, it's just as hard the second time as the first.  Love how truthful she is about how hard breastfeeding can be.
2. 18 Tips for Discipline and Behavior Management from B-Inspired Mama:  Don't we all need some tips when it comes to behavior management?  Well, Krissy pulled together advice from Moms that I'm sure will help you out!
3. Simple Ways to Find Your Way Back to Mindful Parenting from Carrots are Orange:  I love how Marnie made a list of ways she can refocus and get back to being the parent she wants to be.  What would be on your list?
Great job ladies!  Grab a button!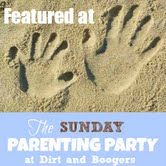 1. Any parenting post is welcome. Humorous, helpful, inspiring, or a tear-jerker, they are all welcome. Please do not add activity posts.
2. Please grab a button (on my sidebar) and add it to your post so that others know about the party too.
3. We have a great Pinterest board that we share many of posts linked up. I also have a Parenting Help board that has tons of posts (and followers) that your post my pop up on.
4. By linking up you agree that the co-hosts of the party may use one picture from your post as a feature.
5. Try to take the time to check out the other posts linked up!