I had a crazy hard time picking just three posts that I loved this week.  There were too many great posts linked up.  But, after a lot of consideration, I picked these three that really spoke to me. 
1. What Should Your 3 Year Old Know? A Development List. from Positive Parenting Connection – Do you ever Google what your child should know at a certain age?  I do!  Well this is a great reminder about what a 3-4 year old should really know. 
2. I'm Just a Girl, Parenting a Boy from Break the Parenting Mold – I love this post because, well, I'm a boy mom too.  I can totally see my life being a bit like this in the next few years and I love her reminder to accept our boys in all their boyness. 
3. The Importance of Play: Do you Make These Mistakes with Kids? #1 from Lessons Learned Journal – An important reminder to play with your children.  This post also introduces you to the #playmatters initiative that I love.  Read this post to find out more!  Seriously, go!
Great job ladies!  Grab a button!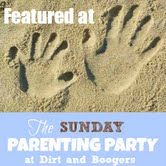 1. Any parenting post is welcome. Humorous, helpful, inspiring, or a tear-jerker, they are all welcome. Please do not add activity posts.
2. Please grab a button (on my sidebar) and add it to your post so that others know about the party too.
3. We have a great Pinterest board that we share many of posts linked up. I also have a Parenting Help board that has tons of posts (and followers) that your post my pop up on.
4. By linking up you agree that the co-hosts of the party may use one picture from your post as a feature.
5. Try to take the time to check out the other posts linked up!